Happy New Year!
As we kick off the new year, we have LOTS of news today. So I'll spare you my normal rambling introduction, so we can get right to it…
January Meeting Announcement
For our meeting this month, we will be raising funds for the Douglas County Fallen Officer Fund.
As you all likely know, on December 31, Deputy Zackari Parrish was killed and 4 other law enforcement officers were injured in the line of duty. This month our band, Three Sheets to the Wind, has offered to use their performance at our meeting to raise funds for the Douglas County Fallen Officer Fund. So for this month's meeting, we are kicking our normal raffle up a LOT of notches (we're cranking it up to 11!) to raise all we can toward this important cause.
In addition to live music from Three Sheets, we'll be hosting a BIG raffle and auction. We will have bigger and better prizes, including gift baskets and some special items donated just for this cause. If you would like to make a basket or donate an item to this raffle, please reach out to Chris at   before the meeting to let us know. The bigger, the better. We want to break all of our fundraising records for this one!
Help us spread the word about this event! As always, this gathering is open to the public. We would love to ask our Parrot Heads to help spread the news about this event, by inviting family, friends and others to join us at our phlocking at Hopper's on Saturday, January 20. It will be a fun night filled with live music, prizes, and of course, all your CPHC friends. Bring a few folks along and they can see what the Parrot Heads are all about, and they can help support this worthwhile charity! I'll be posting the image below on our CPHC Facebook page so share it with your friends!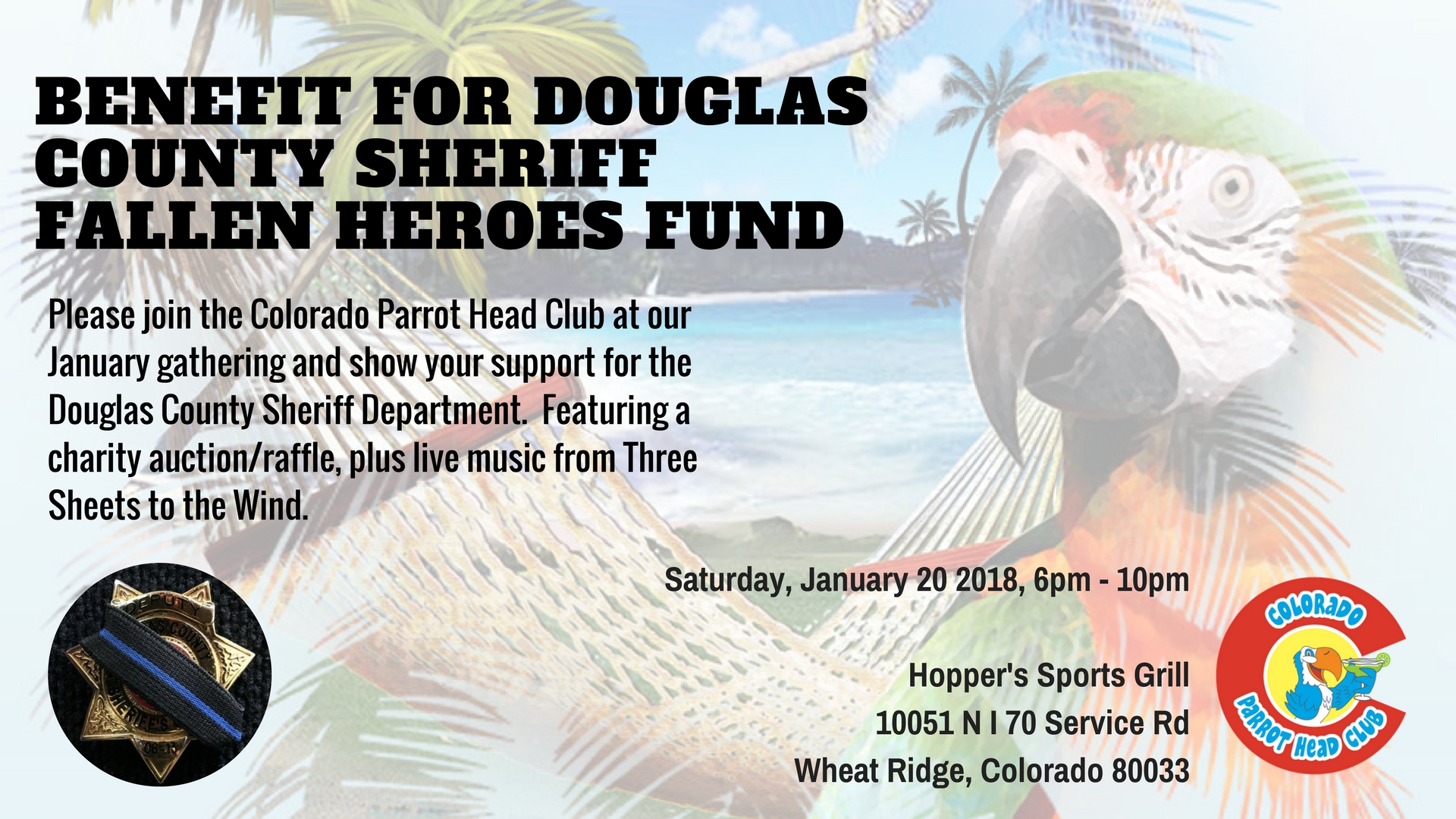 But wait, there's more! At our January meeting we'll also have a special guest from Margaritaville University join us to tell us more about this great program. It will be a fun night, so don't miss it!
We look forward to making our first phlocking of 2018 the best ever!
In Other News…
Have you renewed your membership? Don't forget that if you haven't paid your membership for 2018, the time has come! This year we made renewing online super quick and easy for our active members. To renew your membership online, or to view other ways you can renew or join (in person or via the mail) visit coloradoparrotheadclub.org/renew/.
It's time to register for MOTM! This year, Meeting of the Minds (MOTM) takes place October 31 to November 4. That's right, the first day of MOTM coincides with Halloween… you know that will be a PHUN time to be in Key West! The last update we received on January 1st said that the Casa Marina is already 60% full, so if you want to stay at the host hotel, the time to make those plans is NOW. Visit the PHIP website for all the MOTM details and news, and to register. The website is: https://www.phip.com/meeting
Parade Planning – Coming SOON! It's time for us to begin the planning for the 2018 Denver St. Patrick's Day Parade. I will be reaching out to those of you who were on the build committee last year to start planning out some meetings, and more gatherings for the larger group will be added soon. As far as we know there is no real "theme" to the parade this year, so I guess that means we can do whatever we like…. giant tiki bar party, anyone? Chris and I will be able to chat with you more about the parade at the January meeting if you have questions. Otherwise, just watch the newsletter for info as we start the planning & schedule our float build days. And don't forget to save the date – the 2018 Denver St. Patrick's Day Parade will be held on Saturday, March 17.
That's it for today. Enjoy the rest of your week.
FINS UP!
Jeff Estes
President, Colorado Parrot Head Club