CPHC Newsletter
Hello and Happy Thursday!!
Happy Thursday, Parrot Heads! Sorry for no "weekly newsletter" last week… we were at MOTM, listening to all the wonderful Trop Rock music and sitting by the pool sipping cocktails.
---
The 2019 Meeting of the Minds has come to an end. It was a GREAT time!
---
The PHIP has new leadership. We look forward to working with the new leaders in our future Parrot Head endeavors.
The 28th Annual Meeting of the Minds 2019 "License to Chill" was held last weekend in Key West, Florida. It was a great time!! The PHIP group took a vote and the next 2 MOTMs (2020 and 2021) will both still be held in Key West. Attendance was up this year, and the event coordinators considered this year's MOTM a big success! Hope to see everyone there next year!
2019 MOTM Colorado Parrot Head Attendees: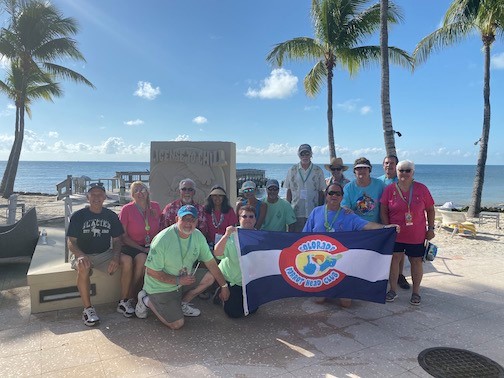 ---
November Events
Club Meeting, Saturday, November 16, 6pm
Hoppers Sports Grill, Wheat Ridge
---
House Concert!!
Copper Skye! Featuring Heather and Dave. Heather was nominated in a bunch of categories in the Trop Rock Music Awards last week at Meeting of the Minds. She is a graduate of University of Northern Colorado and currently lives in Pennsylvania.
Roger and Vicki Sams will be hosting Heather and Dave at their home, in Colorado Springs on Saturday, November 16 at 6:30pm.
–Bring a snack to share and beverage of your choice.
–Cost is $20 per person, with all proceeds going to the musicians.
–For the address and to RSVP, please email Vicki Sams (see 11/6/2019 newsletter email or contact for Vicki's contact info.)
If you can't make it to this show, there will be another show at JJ and Donna's Shiloh Ranch on Sunday, November 17 at 2pm. If you are interested contact for their address. The fee will be $20 per person (all proceeds to the entertainers). Please bring a small lawn chair, and a dish to share if you choose.
Come join us – you will have more fun than staying home and watching the Broncos.
---
December Events
December Club Meeting – Saturday, December 21
Hoppers Sports Bar in Wheat Ridge
We will have our annual Toy Drive
Everyone bring a raffle gift for our Christmas raffle. Plus, we are going to have a tropical ornament exchange as well. So, start looking for tropical Christmas tree ornaments if you want to participate in the tropical ornament exchange.
We will also have an UGLY Christmas sweater contest. The winner will receive a great prize, so be creative!
---
Club T-shirts!!
We still have plenty of t-shirts for our 25th Anniversary!!! We have quite an assortment of colors (Pink, as shown below, Black, Butter Yellow, Caribbean Blue, Steel Gray, Periwinkle, Salmon and Sea Foam Green). We have a wide variety of sizes, and both men's and lady's cut shirts (lady's cut are only available in pink). The one shown below is a lady's cut, with both front and back pictured.
The front has the original Parrot Head logo on it, and the back has a picture on it provided by Dixie LaHood. The pictures here don't do it justice. They are awesome!! We'll have them at all the meetings. If you can't attend a meeting and would like one… please contact Robin or Pete to arrange getting your cool new club shirt! The cost is $30 each. (if you can't make it to a meeting to pick one up, drop a check in the mail to us and please add $5 per shirt for shipping.)
The t-shirts are stored at Pete's house, so you can buy some at the float build, or any time, if you want to stop by Pete's house!
---
We also have T-shirts left over from the Parrot Head 5280 Fest (Party with a Purpose) They are really nice! We have white or teal colors, mens cut or ladies v-neck cut. They will be for sale at all the meetings, or you can contact Robin or Pete to arrange getting one. We will have some for sale at the next meeting. They are on sale now for $20 each. President Pete is modeling one below:
---
Colorado Avalanche Game??
We didn't have enough interest to get the tickets for the October 12 game, but I think we have enough to get tickets for the January 2 game against the defending Stanley Cup Champs, St Louis Blues!
The tickets are $88 each, first level, 2 attack zone seats. Please contact Pete, Robin or Karen if you are interested in joining us on January 2, 2020.
Thanks to those who have contacted us and expressed interest in going.
---
Misc. Events
Escape to Margaritaville is coming to Denver for the holidays!!!
Ticket Sales are closed, Robin has the tickets this week. She will have them at the November meeting and at the December meeting. If you can't make it to any of the club events, please contact Karen or Robin () and arrange picking up your tickets. It is not our responsibility to get your tickets to you. We had a few problems with distribution of Rockies tickets, so please make arrangements to pick up your own tickets. Because of the problems we had with the Rockies tickets, we can not mail the tickets this time.
Showtime: JAN 5, 2020 at 2:00PM
---
Jeff Dunham is coming to the 1ST BANK Center (Broomfield Events Center) on April 4.
Several in our group are interested in going, so we checked into group tickets. They don't really have a group ticket sales up there, and we were not able to get a large group of tickets, but we did manage to get a few. We have a very limited number, so we will sell them on a first come first serve basis. The cost is $75 each. Sorry we can't accommodate everyone, but there are still tickets for sale, so if you'd like to go, and can't fit into our limited number, please buy some tickets online. It will be a very fun night. "Jeffafa" is a SUPER funny!
Contact Robin () if you'd like to buy tickets.
---
Don't forget to check in on Gary and Bonnie Dickinson and their travels at their BLOG and follow their adventures at:
www.bbfreee.wordpress.com
---
Fins up!
Parrot Head President, Pete!