Parrot Head Fest 5280 –
2019 Party With a Purpose
Newsflash!! Extra, Extra… Read All About it!!!!
Our annual Party with a Purpose is rapidly approaching. We have an extra special event planned since this is our 25th Anniversary as a club! You won't want to miss this!! The family who started it all is coming to celebrate with us!! All the past presidents and founders will be here this year!!
Pete has put together an outstanding lineup of musicians to help us celebrate our Silver Anniversary. We also have some really nice silent auction items and raffle items to raise money for some of our local charities.
===>Pete will have the wrist bands for sale at the next meeting, July 20 at Hoppers.
===>Karen will have wrist bands for sale at the Rockies Margaritaville Night.
===>You can purchase them online on our website:
https://coloradoparrotheadclub.org/pay-cphc/
DETAILS:
Party With a Purpose,
a.k.a Parrot Head 5280 Fest
When: July 27 – 2:00 pm until 10pm.

Where: Pete's house – 5461 Marshall Street, Arvada, Colorado
(Same place as the parade float build)
For the Day of the Event please bring:
BYOB,
cooler,
your own chairs,
shade tent,
sunscreen,
NO DOGS (even the resident dogs will not be there),
a side dish to share,
your 5280 t-shirt!
Pete will be selling tickets the meeting, or you can buy them through the PayPal link on our website. Your ticket this year will be a hot pink wrist band!! We have a limited number left.. so get your wrist bands while they last! This wrist band is your ticket to the party this year, and will be required to enter. Pete has built a very nice permanent stage, a replica of the Smokin' Tuna in his yard!! We have a great line-up in store so the tickets will be $50 this year. We have Thom Shepherd and Coley McCabe!! Mike Nash and the new Southern Drawl Band!! and Stoney Gable!! You won't want to miss this!! It will be phun philled day!! Contact Pete, Robin or Karen for tickets.
We have T-shirts for the event this year!! That's President Pete modeling the t-shirt in the picture below. They are REALLY nice! You won't want to miss buying this one! We have white and teal colors, men's cut and women's v-neck cuts available. We will have some at the meeting on the 20th. They are awesome!! The cost is $30 each.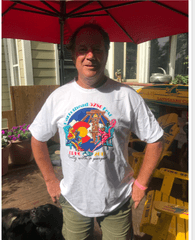 This Year's Charities
This year's event will benefit the Community Table (Food Bank) and My Fairy Dawg Mother (Dog Rescue)
As always, we will have a silent auction and "Chinese raffle," with all the proceeds being split between these 2 charities.
This is also a food drive.. so please bring canned goods; peanut butter and canned proteins; toiletries; and dog and cat food. All of the donated items will go to help the Community Table. For those of you unfamiliar with the Community Table, it is a non-profit organization that offers many services. These include emergency, low-income senior, and other food assistance. They have an amazing facility where they not only provide food, they provide job placement assistance, housing assistance and many other services for low-income families. One of my favorite programs there is called "Feeding the Future." This awesome program provides a bag of food every Friday to the kids on the free or reduced lunch program at the local schools. This ensures the kids have food for the weekends.
My Fairy Dawg Mother is a no shelter dog rescue. It was founded in an effort to save abused and neglected dogs from across the United States and pair them with loving and stable Colorado families. They are a Colorado-based non-profit dog rescue that advocates finding the perfect long term home for each dog that is brought under the rescue umbrella. Their foster program is constructed of a large group of Colorado families that have opened their homes to our rescue dogs. By temporarily housing a rescue dog in a functional home they erase the stresses that boarding facilities can induce. The integration of a rescue pup into an established pack promotes socialization and develops self-confidence. In addition, the rescue pup receives individualized attention and love from their foster family.
We have some fantastic silent auction and raffle prizes this year!!!
We need your help! We are still looking for baskets and items for the "Chinese Raffle!" We have some great donations so far, but we still need more! Please contact Karen Bell or Robin Reed to discuss, if you'd like to help us out.
There is limited parking around the area. You can park in the parking lot of the restaurant next door, also down at the corner of 52nd and Marshall, behind Marshall Liquors. (DO NOT PARK IN THE MARSHALL LIQUOR STORE PARKING LOT) But go behind it and park in the lot for Someplace Else Brewery (6425 W 52nd Ave, #6, Arvada). It's a 4-minute walk, but we will have a shuttle car between the 2 places if needed.
Fins Up! Happy Friday!!
Pete Grosskreuz,
President, Colorado Parrot Head Club