Happy Friday, Parrot Heads! We are in the final countdown until the Eagles featuring Jimmy Buffett & the Coral Reefers arrive in Denver for their June 28 show! I hope you have all gotten the day off work and stocked up on sunscreen, grass skirts, and leis! It's going to be a PHun time!
Eagles/Buffett Show Pre-Parties
Coors Field may not allow tailgating in their parking lots, but there is no lack of great bars around the stadium offering some pre-concert fun. Earlier this week we updated our webpage with all the concert events we're aware of, and we've been keeping the info updated as we learn more from each location! You can stay up to date on all the pre-party events by visiting this page at: coloradoparrotheadclub.org/2018-denver-concert-preparty/
Official CPHC Events
The Colorado Parrot Head Club has partnered with two downtown Denver bars for some pre-party events. You'll find Colorado Parrot Heads at both events, and we may even have some special swag to share with you on concert day! Hey, you don't even need tickets to the show to join the party. There will be tickets given away at multiple locations on concert day, so come down even if you don't have them.. maybe you'll get lucky!
Sports Column is hosting Thom Shephard and Coley McCabe for two nights. On Wednesday, June 27 the duo will play a Parrot Head-only party, where you can meet and mingle with Parrot Heads from Colorado & beyond! On Thursday, Sports Column will host a party on their rooftop deck all day, once again featuring Thom & Coley. Landshark Lager will be there with some giveaways, including tickets to the show. Enjoy a full day of fun in the sun. To pay our musical acts there is an admission charge for these two events ($10 for Wednesday, $20 for Thursday). Pete Grosskreuz is coordinating the Sports Column events, so be sure to thank Pete when you arrive for putting this all together!
Larimer Beer Hall has also been working with our club to host a pre-party that will feature drink and food specials for Parrot Heads before the show. There will be 2-for-1 drafts, $3 Landsharks, and $5 burger specials. Landshark Lager will be there with more giveaways, including another pair of tickets to the show. The Margaritaville Girls will also be there, so be sure to stop by!
Full details for the above events and details on all the other downtown Denver pre-parties (including events at the Tavern Downtown, Blake Street Tavern, and ViewHouse) can be found at coloradoparrotheadclub.org/2018-denver-concert-preparty/
No matter where you pre-party … we hope you have a fun and safe concert day!
Thank You!
We wanted to send a sincere THANK YOU to all of you who came out to our club meeting last weekend and helped support the Melanoma Research Fund & their Denver Miles for Melanoma walk. It was an especially fun meeting! We had great music from Brian & Jim, and a nice visit from Landshark Lager with some free beer and swag! Not only did we all have a great time, but thanks to your contributions and a club donation we were able to give $1800 to Miles for Melanoma! Thank you all so much for your generosity!
CPHC Election Reminder… and news!
As a reminder, this is the final year of my term as CPHC President, and an election will be held in November to pick a new leader for our phlock!
Ladies and Gentleman, we have a candidate!
We currently have one official candidate for our CPHC Presidental Election: Pete Grosskreuz! Pete has let us know he is interested in taking the oath of office as Colorado Parrot Head Club President. You may know Pete best for being the host of our float builds the past several years, plus for his work towards our Miles for Melanoma fundraisers. If you don't know Pete, look for him at the Sports Column pre-concert events or at one of our monthly meetings. Introduce yourself, and get to know your presidential candidate!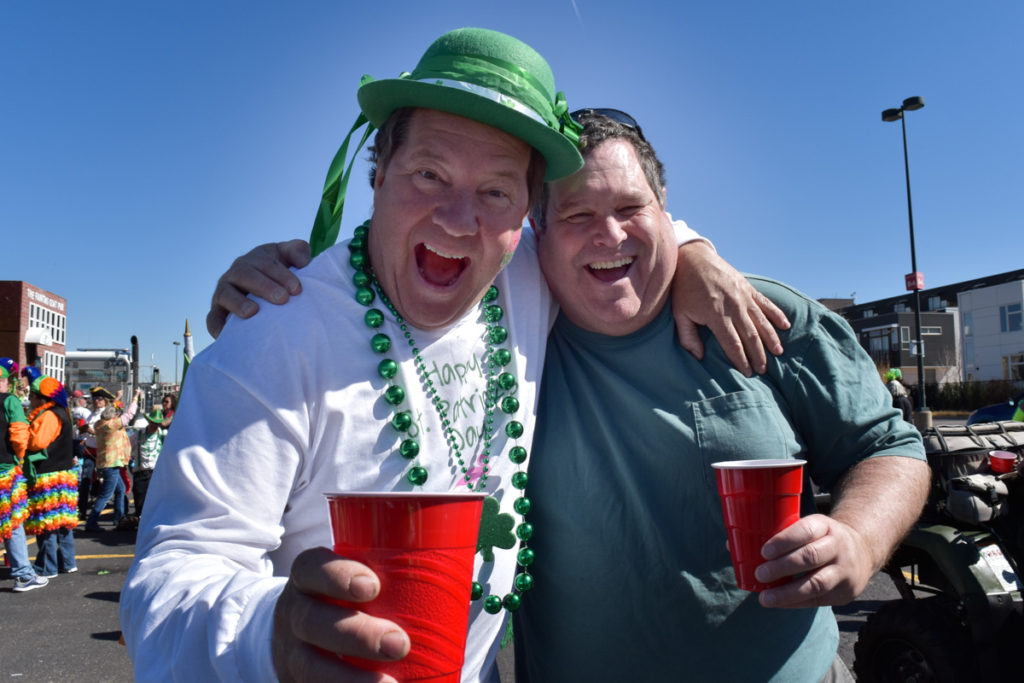 Do YOU Want To Run For President?
It's not too late if you wanted to consider a run for CPHC President. If you're interested in learning more about the position and what it means, please talk to me. I'd be happy to tell you more about the role and answer any questions you have. If you decide you are interested in running for this office, please let me know no later than September 30. We'd like to use October for "campaigning" before our November election.
That's all from me. I am sure I'll see most of you on Thursday… I can't wait!
Fins UP!
Jeff