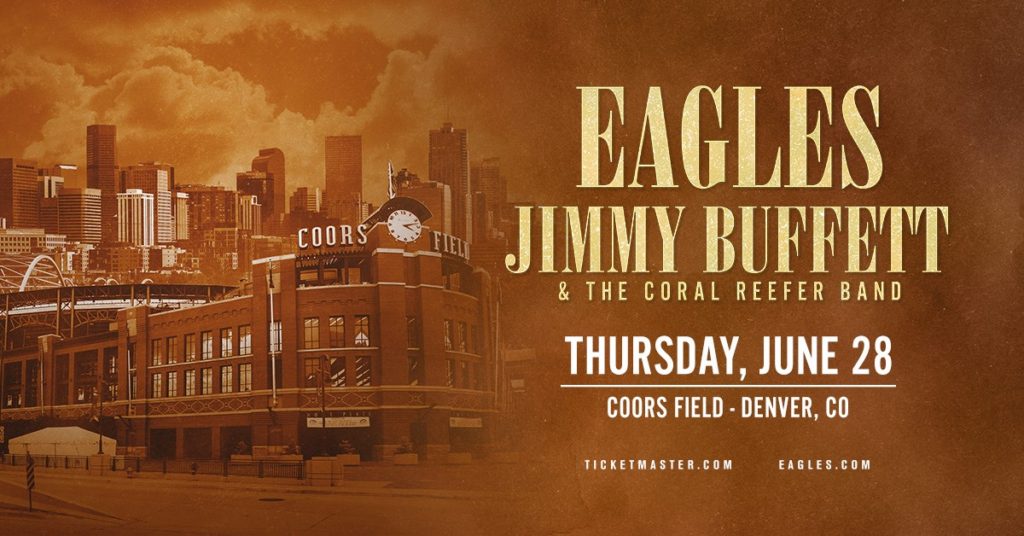 Hellooo Parrot Heads!!
We hope you are all as excited as we are to see the Eagles featuring Jimmy Buffett and the Coral Reefers performing at Coors Field on June 28, 2018. This is certain to be an incredible show!
The question we're getting the most is … "where's the tailgate party?!?"
As many of you know, Coors Field doesn't allow tailgating in their parking lots. Fortunately, there are a number of businesses surrounding the stadium that are throwing pre-show parties! The Colorado Parrot Head Club has partnered with two local bars, Sports Column and Larimer Beer Hall, for our official club-sponsored events. However, with so much fun happening around Coors Field on concert day, we wanted to bring you the details for all the pre-parties happening near the stadium. With the info below, you can easily create your own pre-party Parrot Head pub crawl and hit all these fun spots!
Wherever you go, whatever you do, plan ahead so you get home safely. Denver has plenty of transportation options, including our RTD buses and trains, plus local Uber, Lyft and taxi service. Party responsibly, Parrot Heads!
Events Co-Sponsored by the Colorado Parrot Head Club
Parrot Head Concert-Eve Party
Sports Column, 1930 Blake Street, Denver 80202
Wednesday, June 27, 6:00 PM
Why limit your pre-party to just one day? Come down the night before the concert to join Parrot Heads from all over the country who have flocked to Denver for this special show! Enjoy live music from Thom Shephard and Coley McCabe starting at 7:00 PM, and have some PHUN with your PHRIENDS! Admission cost is $10 at the door.
Event Page  |  Map, Directions & Info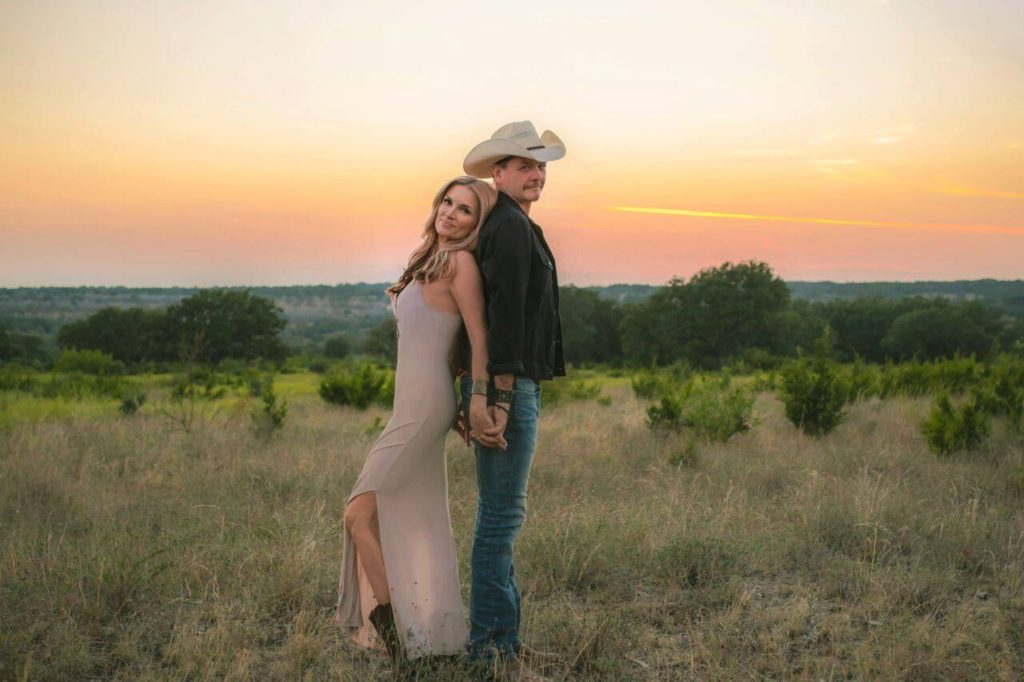 Denver Pre-Concert "Tailgate" Party
Sports Column, 1930 Blake Street, Denver CO 80202
Thursday, June 28, 11:00 AM until showtime
Who says you need a parking lot to tailgate?! Instead, enjoy a full day of pre-party fun on the Sports Column rooftop deck! Thom and Coley will be back to perform in the afternoon to get you all in the party mood. Fuel up for the show with food and drink from Sports Column (available for purchase.) Landshark Lager will be stopping by with swag and a pair of tickets to give away! Admission is $20 at the door.
Event Page  |  Map, Directions & Info
Parrot Head Pre-Party "Phlocking"
Thursday, June 28, 2:00 PM – 7:00 PM
Larimer Beer Hall, 2012 Larimer St, Denver CO 80205
Searching for a cheeseburger and a cold draught beer? Stop by Larimer Beer Hall, where they are hosting a Parrot Head Pre-Party featuring 2-for-1 drafts, $3 Landsharks, and $5 burgers! Not only do they have a great beer selection, but there's a full bar for those of you who prefer margaritas and boat drinks! Landshark Lager and the Margaritaville Girls will be there, and there will be several prize giveaways.. including tickets to the show and some Buffett-themed prize-packs! Make a point to "phlock" on over before the show!
Event Page  |  Map, Directions & Info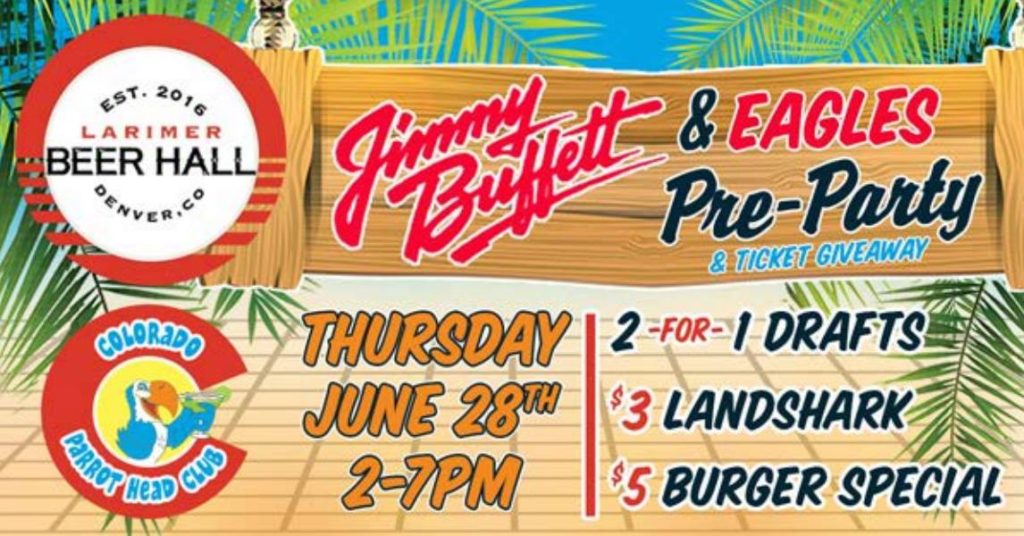 Other Pre-Concert Events
The Eagles & Buffett Pre-Party at Blake Street Tavern
Thursday, June 28. Main bar open at 11AM; Parking lot party starts at 4:00 PM
Blake Street Tavern, 2301 Blake St, Denver CO 80205
Visit Blake Street Tavern before the Eagles with Jimmy Buffett & The Coral Reefer Band concert for a party in their parking lot! Their parking lot pre-party features a beer garden, tiki bar, games and more. Enjoy cheeseburgers and margaritas, plus prizes and swag from 99.5 The Mountain. The Jamulance will be there, too!
Event Page  |  Map, Directions & Info
Concert Pre-Party at the Tavern Downtown
Thursday, June 28, all day
Tavern Downtown, 1949 Market St, Denver CO 80202
The Tavern Downtown is hosting a Buffett/Eagles party on their rooftop. Landshark Lager will be there, with $3 Landsharks and ticket giveaways all day! At 5:30 pm Landshark will be giving out a pair of THIRD ROW seats, in case you want to upgrade your seats before the show! 
Map, Directions & Info
Pre-Concert Parrot Tailgate Party at the ViewHouse
Thursday, June 28, starting at 4:00 PM
Viewhouse Ballpark, 2015 Market St, Denver CO 80205
Come dressed in tropical button downs, leis and hula skirts for some pre-concert tailgating. They will have hula and limbo contests, swag giveaways, plus live music by Secret Creatures in the courtyard.
Event Page  |  Map, Directions & Info
---
Questions?
If you have questions, wish to add an event, or want us to edit your event details, please contact us at .