TGIF Parrot Heads!
Happy Friday the 13th!
Given the history of today spooky date, I'd avoid creepy campgrounds and mysterious lakes today. To be honest, I don't even care that it's Friday the 13th, I'm just happy it's finally Friday!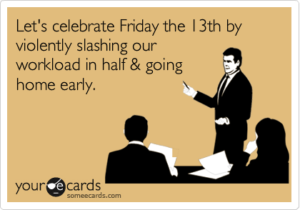 There are no official club events this weekend, but if you want something fun to do check out the Colorado Irish Festival, which takes place today through Sunday. It's always a fun time!
While you're enjoying your weekend, start preparing for next weekend, too, which is when you can attend the Party With a Purpose! We have all the details (plus a few requests) for this party in our newsletter today, plus more news. It's a long one, but full of important details, so let's get to it:
Party With a Purpose is only 8 Days Away!
It's almost here, folks… the 6th Annual Party With a Purpose will take place on Saturday, July 21. It is not too late to get tickets and join the party, but please don't delay any longer. Our gracious hosts, Lee & Robin, will only get busier as the party gets closer, so don't procrastinate any longer. If you need tickets, please contact us at .
In case you don't already know, this is the 6th and final year that Lee and Robin are hosting the Party With a Purpose at their home in Castle Rock, It's a full day of great music, food, drink, prizes, and plenty of fun! Not only is it a fun party, but it serves a really important purpose. This party has become the largest non-corporate fundraiser for TLC Meals on Wheels, so it's important that we all participate and help contribute to this amazing cause.
Party With a Purpose Info
When: Saturday, July 21. Doors open at 1 PM; music starts at 2 PM.
Where: South Castle Rock, between Plum Creek & Tomah Road; contact us for the address.
Tickets: $25 and should be purchased in advance; contact us at  to reserve your ticket today.
This Year's Entertainment
This year's musicians feature two returning favorites and one PWAP newcomer. We're thrilled that Thom Shephard and Coley McCabe are back this year. If you have seen this singer-songwriter duo perform before you know how great they both are on their own, and how especially awesome they are when they perform together. If you haven't seen Thom and Coley perform, then you definitely won't want to miss this chance. Also performing on the PWAP stage this year is Donny Brewer. Donny may be new to PWAP, but he's a well-known musician and the "king" of the Trop Rock Music Awards. He's won awards for Male Vocalist, Entertainer, Album, Song, Songwriter of the year and the "I Can" award for Philanthropy. You won't want to miss any of this great musical lineup!
This Year's Prizes
You'll want to bring a checkbook to this year's PWAP, because we have a lot of great prizes you could win in our charity raffle and silent auction. There are more than 2 dozen awesome raffle prizes and baskets, plus some really wonderful and unique auction items. We won't spoil the surprise for you by telling you what you may be able to win… just trust me that it's some awesome stuff! We will take credit cards, but checks and cash are preferred and much quicker to process. Consider dusting off that checkbook & bringing it along!
What To Bring / What Not To Bring
Please bring your own chairs, blanket, and shade; pop-up tents are welcome and will be staged in the back and side of the yard to avoid blocking anybody's view.
This is a rain or shine event and takes place outdoors, so plan accordingly. Often the afternoon is hot but the early evening can get chilly, so dress in layers.
BYO favorite beverage; water and non-alcoholic drinks will be available.
Please bring a side dish to share. All your homemade sides have helped to make the PWAP an awesome potluck. As we have in the past, we'll provide the main courses, typically burgers, BBQ, etc., as well as all your serving utensils, cups, plates, etc.
We will be collecting items for TLC Meals on Wheels, so please consider bringing non-perishable food and care items. They need items for humans and pets, so bring whatever you can and help us fill our trailer with donations.
Feel free to bring your friends and family members, even if they aren't Parrot Heads. If this sounds like their kind of event, I'm sure we'd love to have them join the party (ticket required; must be 21)
Please leave your kiddos and/or furbabies with a sitter. This is a 21+ event.
Bring money! Again, check and cash is preferred, but credit cards will be accepted. We will have some really great raffle and silent auction items, so you're going to want to participate. Don't be unprepared and miss out!
How You Can Help: We Need Tables & Volunteers
A party this size doesn't happen without the help of the flock! There are several ways that you can help with this years PWAP. First, we need buffet tables for the food stations. If you have a table you'd be willing to lend for the day, please reach out to let us know at . Please don't just show up with a table on the day of the party without contacting us first so we can plan accordingly. After all, you don't want to haul up an extra table we no longer need.
We also need volunteers to help on PWAP day. If you can spare an hour or two of the day to help out, we would appreciate it. We know we need volunteers to help manage/organize the food stations and to keep the trash and recycle bins emptied. There may be more things that come up on the day of the party, so if you can volunteer, please let us know.
Stay Tuned For More PWAP Info Next Week
Next week we'll send another newsletter with all the last-minute PWAP information you need. Stay tuned!
IN OTHER NEWS
See Thom, Coley & Donny Again in Colorado Springs on July 22
If you can't make PWAP, or if like us you just love Trop Rock and want to see these folks twice, you can see Thom Shepherd, Coley McCabe and Donny Brewery again on Sunday, July 22 in Colorado Springs. The trio will be playing a house concert at Roger & Vicki Sam's home. The party kicks off at 4 PM, and music starts at 5 PM. Admission is $20 (which goes to the musicians); BYO beverages, lawn chair, and a snack to share with the group. Email us at  if want more info or need to RSVP, and we'll get you in touch with Roger & Vicki.
Carpet Cleaning Offer for Parrot Heads
Glen Behring is in town with his carpet & furniture cleaning equipment and is now scheduling cleanings for now through July 22nd. If you need your carpet or furniture cleaned, please contact us at  if you want Glen's phone number or email address.
Happy Friday The 13th!
That's all from me today. I hope you all have a great Friday the 13th and a wonderful weekend.
Fins UP!
Jeff