Hello again, Parrot Heads.
I know I just emailed you yesterday about the parade, but today we have other news we wanted to share. Some of it is sad, but I'll do my best to end with more upbeat news.
Additionally, if you missed the email yesterday about our parade, please make sure you check it out. You can view all the details right here: PARADE DAY INFO. Please note there is a typo in yesterday's email. The parade date is Saturday, March 17 – not March 11 as referenced in one portion of that email. Sorry!
Here is our other news for this week:
---
Sad News…
As many of you have already heard, we lost a member of our phlock this past weekend. Long-time Colorado Parrot Head Club member Larry Durkee passed away on Saturday, Saturday, March 10th. Larry was such a sweet and fun member of our club, and friends to so many of us. He will be greatly missed. Chris and I sincerely hope that he's already been reunited with Loretta, and that they can continue their adventure together in Heaven.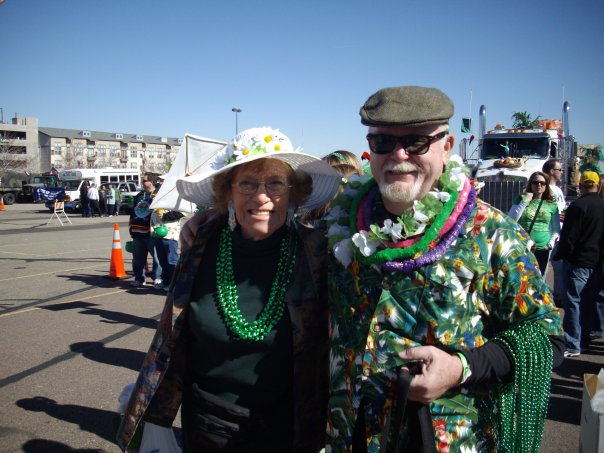 I heard about this the way many of you did, on Facebook. I do not have any details on services for Larry at this time. If any of you receive details, please let me know and I will pass the information along to anyone to our group.
---
It's very hard to move from that sad news to other topics, but we don't want to end this newsletter on a sad note. Instead, here is some new information on some fun upcoming events:
---
Kelly McGuire House Concert, Saturday, March 17
If you aren't keen on partying too late after the parade and are looking for something more "chill" to do… Kelly McGuire (www.redfishisland.com) is passing through town and a spur-of-the-moment house concert has been set up. The show will be indoors at Donna and JJ's place in Colorado Springs. Kelly McGuire will be playing from around 7 PM until 9 PM or so. The cost is $25 per couple, and you should bring your own beverage and a chair (unless you want to sit on the floor). If you have no plans that evening, you are invited to come on out. For more details, email us at and we will get you in touch with the hosts.
---
Jimmy Buffett in Las Vegas, October 20
Jimmy Buffett has announced he is playing the MGM Grand Garden Arena in Las Vegas on October 20, 2018. If you are interested, the club ticket price is $107. To be considered for club tickets, we need to submit our request to the Sin City PHC as soon as possible. Please let me know on or before Thursday, March 15 if you wish to request tickets. Remember, a request for tickets is a commitment to pay for your tickets, so only send us a request if you're sure you'll be there. Email us at with your ticket requests.
---
That's all for now, and unless something additional comes up, that's all the news for this week. I look forward to seeing you on Saturday at the parade.
Jeff